Human resource management
A self-hosted HRM: retain control of sensitive corporate data
A ready-made HRM system
DWKit HRM is a comprehensive, yet simple implementation of DWKit that allows you to manage your human resources whether you are an SMB or a large enterprise.
Demo
DWKit Human Resource Management provides company owners and managers with an ability to easily control and monitor employee information and statuses.
Besides, it enables employees to create and manage dynamic events and view information about their colleagues.
Quick overview
DWKit HRM provides you with a set of simple and transparent tools which allow you to streamline relations between company's management and employees and respective workflows.
Data access
Get a centralized view of global employee data instantly and retrieve it.
Management
Record, monitor and manage all types of employee leave and attendance within your company: vacation, training, business trips, sick leaves, etc.
Workflows
Create simple workflows to perform routine human relations tasks such as email notifications, checklists.
Customization
Create custom forms for onboarding, benefits, travel, exit, etc. Define functions and connect smoothly with third party applications.
HR processes
DWKit Human Resource Management automates a wide range of HR-related business processes, which can be modified with the in-built process editor.
Demo
Get a grasp of what DWKit Human Resource Management looks and feels like by checking out our online demo.

Check it out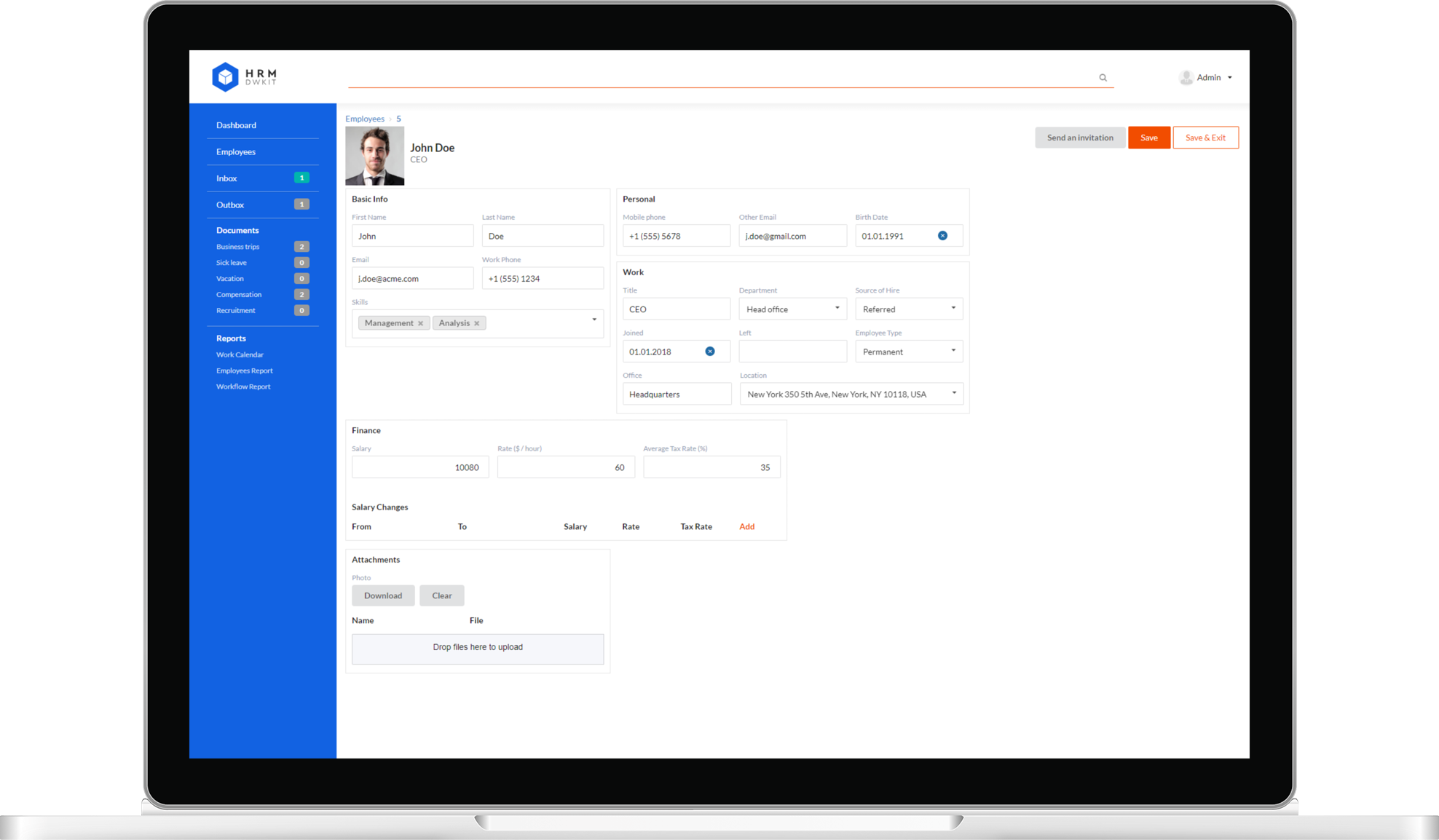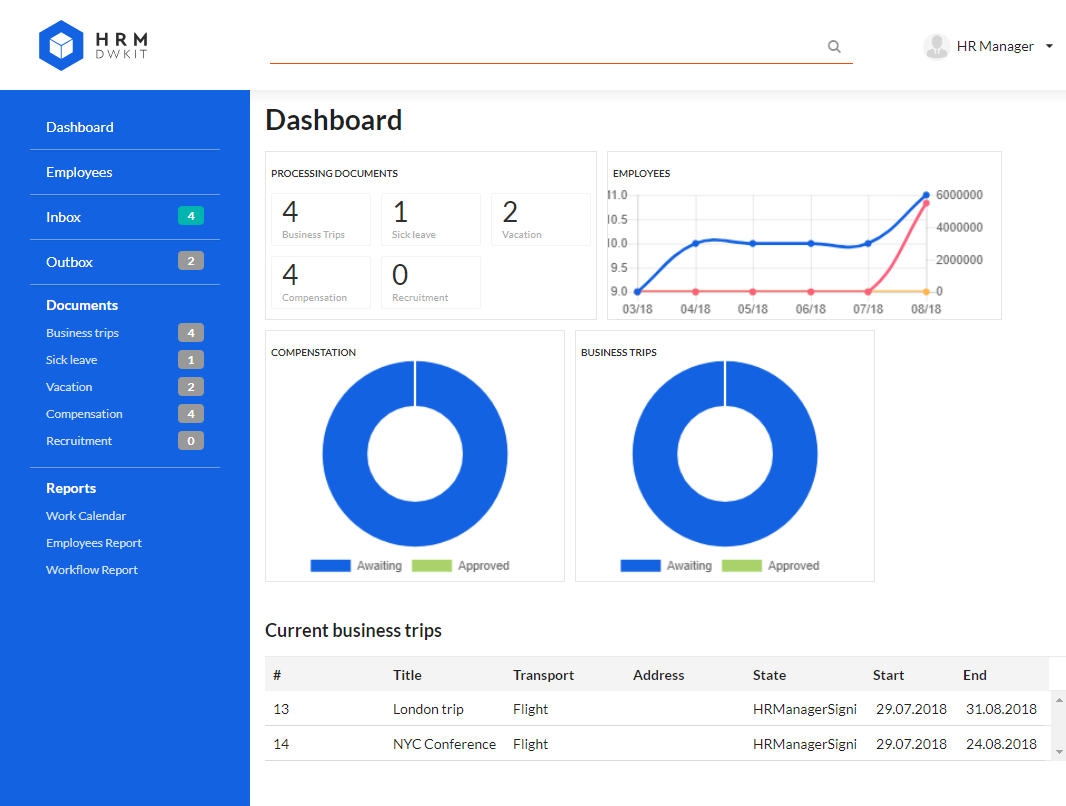 Dashboard
Dashboard allows you to see the number of processed documents, a chart, specifying the number of employees, their salary and taxes, expenditures and compensations, and upcoming business trips.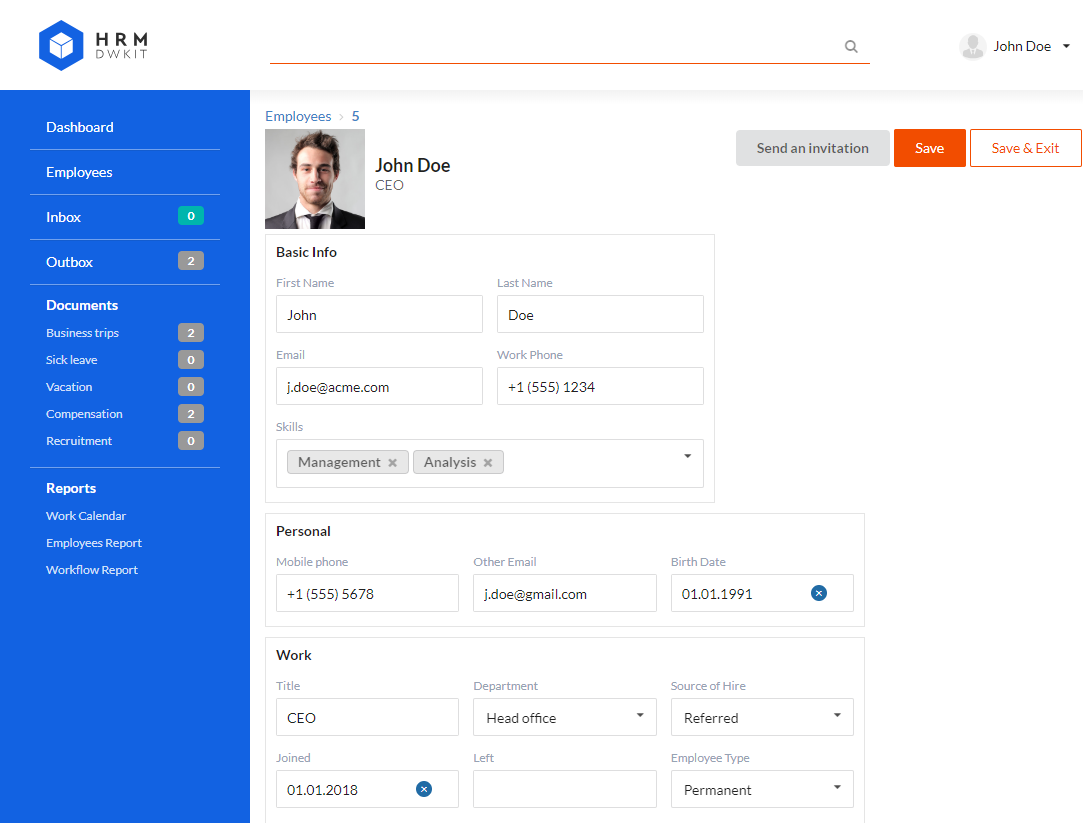 Employees
Employee view is an indexed list of employees with access to global employee data, including their names, department, contact data and other employee information with access to individual employee data.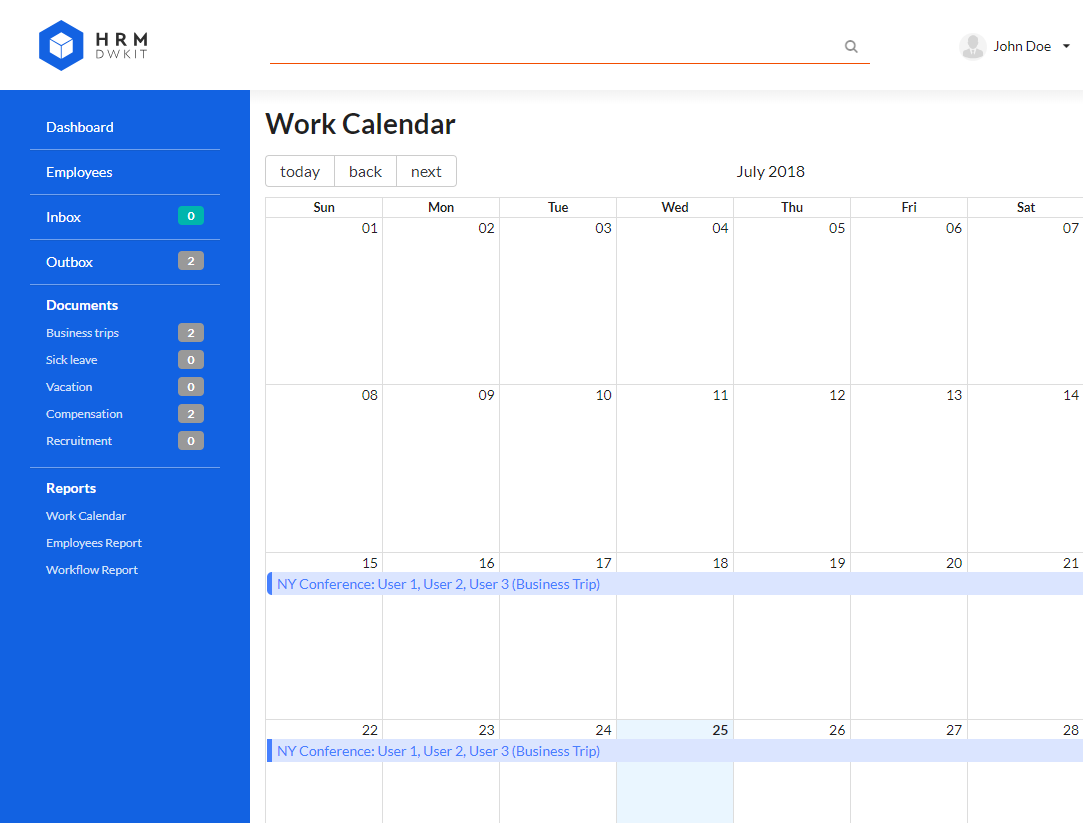 Work calendar
Work calendar provides users with a monthly view of business trips, sick leaves and vacations of your employees.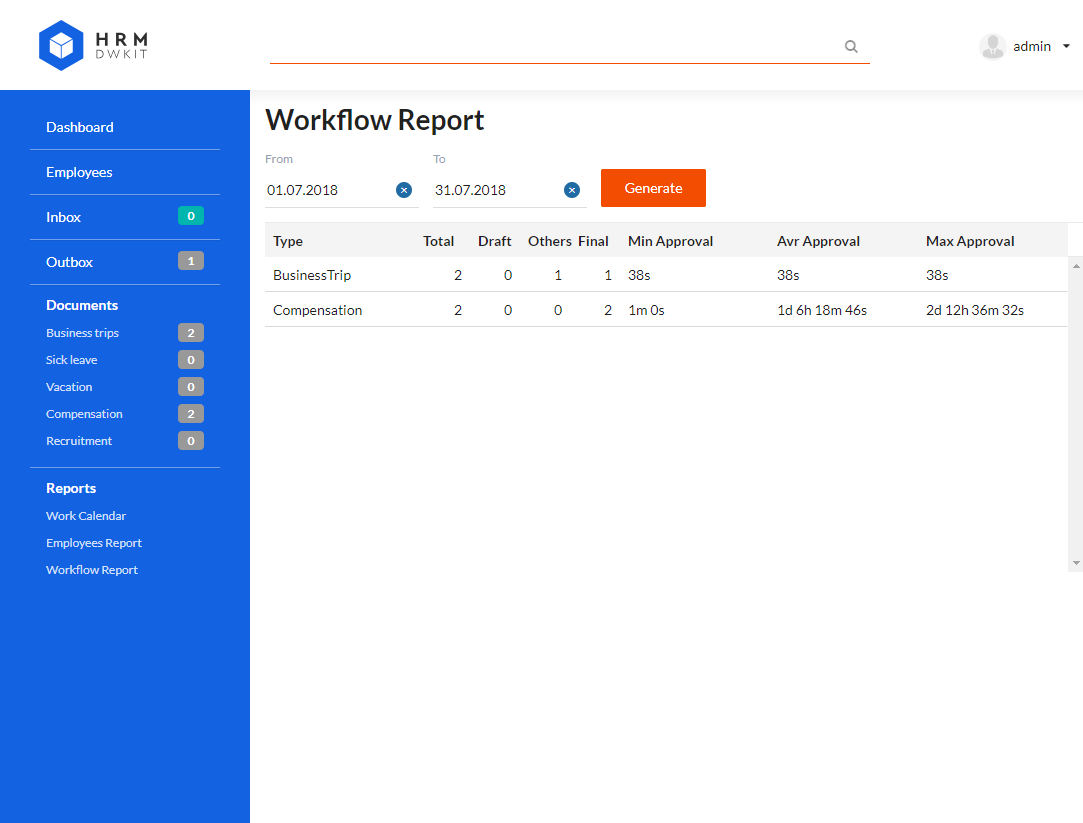 Workflow report
Workflow report allows you to generate information on the performance of your workflows over the selected time span, including their types, quantity, and minimum and maximum approval times.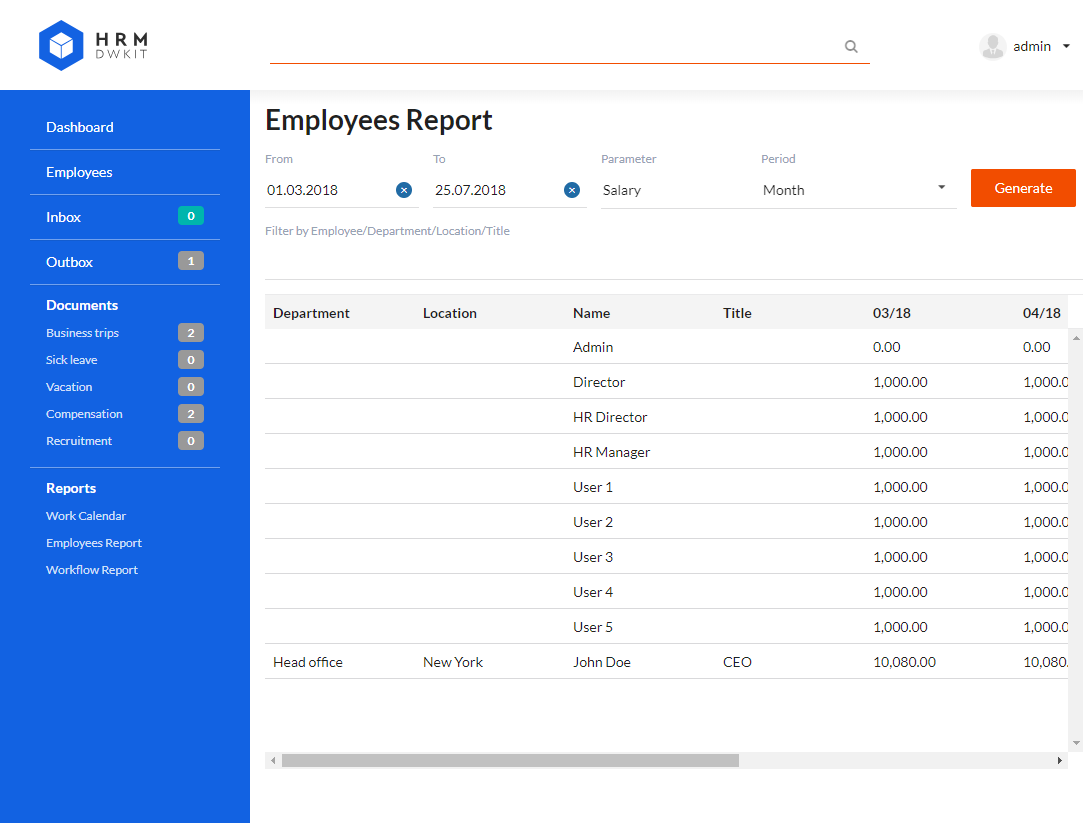 Employee report
Employee report lets you generate monthly and yearly information on employee's salary, taxes, compensation, and duration of business trips, sick leaves and vacations.
Admins
System administrators with access to the entire system except for sensitive information.
Directors
Company's management with access to general information and processed documents.
HR Directors
HR Directors with full access to the system.
HR Managers
HR Managers, capable of adding, editing and deleting employees.
Accountants
Accountants responsible for managing employee compensations.
Other users
All other users of the HRM system with access to generic information.
Got interested?
Download DWKit HRM now and say goodbye to spreadsheets! Start a free trial or take a quick tour of DWKit's easy-to-use Human Resource Management system. The trial version is available on the downloads page.
Trial version of DWKit Human Resource Management comes with the following limits: 5 schemas, 30 forms, 10 users.
Start using now
Contacts
Drop us a line and we will get back to you within 24 hours to answer your questions. All submitted information will be kept confidential.